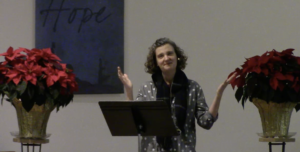 event. Our goal was to raise $20,000 for Family Promise, the Housing Advocate Network, and Missoula Works and you all helped us exceed that goal!  You can continue to send in donations for the Stay At Home event until the end of the year.  
MIC would like to thank the many people who came together to make the Stay At Home fundraiser a success.
Thank you to the Stay At Home fundraising team: Rebecca, Vicke, Lorraine and Nancy. These three came up with a fundraising concept that worked during COVID. They also coordinated all of the aspects of the event and gave so much of their time and talents to make sure that the event was a success. 
Thank you to the Stay At Home speakers: Courtney and John. Thank you for being there with us all live and making us feel like we truly were all together, even though we were across the country from each other.
Thank you to our storytellers: Jane, Rachael and Jathan. We appreciate your vulnerability. Thank you for helping us connect our programs to the real-life stories of this work.
Thank you to our tech wizards: Nancy and Ike. I can assuredly say that we would not have had an event if you were not there. You made the event flow and come to life!
Thank you to our videographer: David. You took several hours of footage and created beautiful and concise stories for all of us to enjoy.
Thank you to Immanuel Lutheran Church for sharing your space with us. Thank you to John Floridis for sharing your beautiful music with us.  
Thank you for those who donated door prizes and gifts – we "drew" for prizes and were able to give 40 thank you gifts to those who donated.
Thank you to all of our donors, volunteers, supporters to continuing to walk along side us every day. Many thanks to you all! 
As we come to the close of 2020 one thing is certain. Our relationships with each other are so important. Our connections create light in the darkest of times. Many thanks to you all.